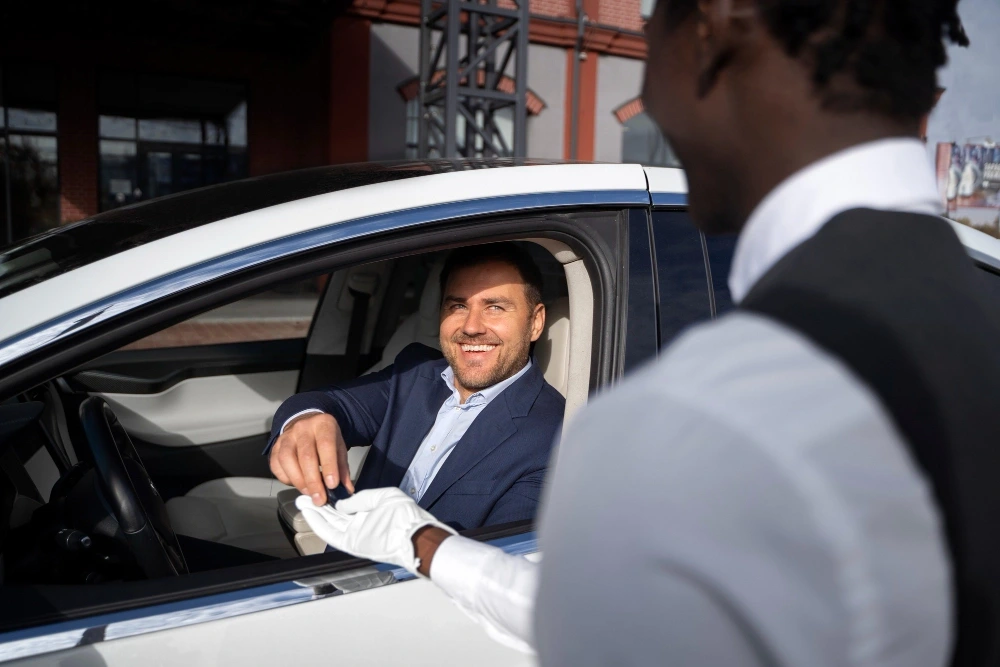 RENT PEUGEOT 3008 IN DUBAI AND ENJOY A LUXURIOUS RIDE WITH DISTINCTIVE COMFORT AND STYLE
Dubai, renowned for its lavishness and extravagance, is the seamless backdrop for showcasing your unique style and personality. When renting a car in this dazzling metropolis, the choice is clear – Peugeot. With its exceptional craftsmanship, innovative design, and cutting-edge technology, Peugeot is for those seeking comfort, flair, and high-performance vehicles. Rent Peugeot 3008 Dubai to navigate the city with style, whether you're a resident or a visitor.
BENEFITS OF PEUGEOT RENTALS IN DUBAI
Dubai's sleek and unique driving experience pairs perfectly with a Peugeot rental car. These elegant vehicles are popular among drivers who prioritize comfort, style, and performance. With a variety of Peugeot models available, you can embark on your Dubai journey with grace, enjoying the following benefits:
1. LUXURIOUS COMFORT
Step into the world of Peugeot rentals in Dubai, and you'll immediately notice the emphasis on comfort and style. These vehicles are designed with meticulous attention to detail and feature high-quality materials that enhance the driving experience. From comfy seating to advanced climate control and excellent noise insulation, every aspect of the Peugeot provides maximum enjoyment.
2. ELEGANT AND POWERFUL
Peugeot is renowned for its elegant, French-inspired design, and each Peugeot model, from hatchbacks to sedans and SUVs, has its distinctive character. Besides its aesthetics, the efficient engines, precision handling, and rapid acceleration set them apart, making driving in Dubai an absolute pleasure.
3. HIGH-TECH FEATURES
Peugeot rentals in Dubai come equipped with cutting-edge technology and amenities that enhance convenience, entertainment, and safety. Features such as touchscreen interfaces, smartphone connectivity, and voice-controlled infotainment systems keep you connected and engaged throughout your journey. Peugeot vehicles prioritize road safety and are well-equipped with modern driver-assistance systems.
4. FUEL ECONOMY AND SUSTAINABILITY
Peugeot shines with its eco-friendly engines and technology in a city that values sustainability. Renting a Peugeot in Dubai offers a luxurious driving experience and contributes to a greener environment by reducing fuel consumption and emissions.
DISTINCTIVE FEATURES OF PEUGEOT 3008 THAT WILL ELEVATE YOUR DUBAI EXPERIENCE
Among the impressive Peugeot lineup, the Peugeot 3008 is a remarkable choice for your Dubai adventures. Let's take a closer look at what this exceptional vehicle has to offer:
1.
EYE-CATCHING EXTERIOR AND INTERIOR

The Peugeot 3008 boasts an eye-catching exterior with a new frameless grille, striking lighting, and seamlessly integrated front wings. Its interior is equally impressive, featuring digital dials as standard on every version, toggle switches, a spacious central storage bin, and an enlarged media screen that creates a relaxing and enjoyable cabin environment.
2.
VERSATILE ENGINE OPTIONS

With a range of engine choices, including small turbo diesel, turbo petrol, and two hybrid options, the Peugeot 3008 2023 offers flexibility to suit different preferences. The top-spec Hybrid4 300 model delivers exceptional power and fuel efficiency with all-wheel drive, an output of 296bhp, carbon dioxide releases of only 29g/km, and a completely electric range of 36 miles.
3.
INTERIOR DESIGN AND COMFORT

Inside the Peugeot 3008, you'll find impressive interior design, high-quality materials, and a unique blend of shapes and colours that create a visually appealing and comfortable space. However, it's worth noting that the climate controls are touchscreen-integrated, which might require some adjustment.
4.
DRIVING EXPERIENCE

You can experience sheer driving pleasure with the Peugeot 3008 Active Turbo. The steering wheel is perfectly weighted, and the small steering wheel adds to the car's agility and responsiveness. Handling is impressive, with minimal body roll through corners and exceptional grip. The suspension absorbs most road imperfections, ensuring a comfortable ride. While the diesel engine runs quietly at cruising speeds, it may become slightly noisy under heavy acceleration.
5.
SMOOTH AND RESPONSIVE TRANSMISSION

The automatic gearbox in the new Peugeot 3008 is smooth, responsive, and quick-shifting, delivering a seamless driving experience. In hybrid models, the electric motor provides near-silent running in electric-only mode, elevating refinement to another level.
TO SUM UP
Rent Peugeot 3008 Dubai to enable yourself to enjoy a luxurious and stylish ride that perfectly complements the city's opulent ambience. With its exquisite design, advanced technology, and superb performance, the Peugeot 3008 is ideal for an unforgettable Dubai experience. Don't miss the opportunity to experience the Peugeot 3008 Active Turbo and elevate your Dubai journey to new heights.